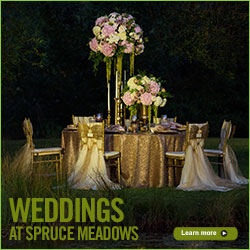 Media Releases
Kent Farrington Reigns Supreme in PWC Cup
2017-07-05
FOR IMMEDIATE RELEASE
Wednesday, July 5th 2017
Kent Farrington Reigns Supreme in the PWC Cup
With a great start to day one of the 'North American' Tournament presented by Rolex, guests enjoying the fantastic conditions were once again treated to another great win by World #1 Kent Farrington(USA).
Entering the competition on his incredibly talented Uceko, a 16 year-old gelding by Celano, the duo took control in the PWC Cup 1.55m to win the title and hoist the champions hardware. A starting roster of 41 top international athletes, representing 13 nations, would challenge the course designed by Santiago Varela of Spain. The challenging first round was mastered by seven notable athletes who went on to an exciting jump off against the clock.
Following the win Farrington commented on his long time partner, "He's really been a great horse for my career. I got him at the end of his 6 year-old year and he's been a mainstay at my stable. Uceko really brought my career to an international level and I owe him a lot for that and I'm very proud that he is still able to go out and win like he did today." Farrington continued, "Uceko is a special horse, he really has his own way to win – which is different from most of the other horses. He's able to leave out strides that I don't think many other horses can do while still leaving the fences up so that gives me a big advantage."
Continuing a hot streak from last week's 'Pan American' Tournament, young Fernando Martinez of Mexico once again arrived at the finish line with a blazing time that earned him yet another podium finish next to the top ranked Farrington. When describing his fantastic partner Cor Bakker, a 10 year-old Dutch Warmblood gelding, Martinez said, "He is a very clever horse. He is incredibly quick across the ground but he's also very careful." He continued, "I am really just learning at this level - this is my first CSI 5*, so I'm just thrilled with the fact that this horse has taken me here."
Following close behind the top two finishers for a great podium finish, was Canada's Tiffany Foster aboard her long-time partner, Victor. Foster had this to say about how she manages the 15 year-old Dutch Warmblood gelding, "I've had Victor since he was 8 years-old and he's 15 now so we've been together for quite a while. I think these classes really suit him – 1.55m is the perfect height for him. He is very comfortable and competitive at this level and he's a very fast horse so I know if I can get in the jump off, I have a shot.
Kent Farrington(USA) Hoists the Championship Hardware with Cal Jacober, Office Managing Partner at PWC
Kent Farrington Finds First Win of the
'North American' Tournament
The inaugural day of the 'North American' tournament, presented by Rolex began with the Kubota Cup 1.50m competition. World #1 Ranked rider, Kent Farrington proved his title, laying down the first win of the tournament against a roster of 71 top international athletes.
A challenging test was set by Spain's Santiago Varela which presented a test toward the agility and efficiency of each combination. Of the notable roster, six would qualify on to the jump off against the clock.
Continuing his winning ways at the Spruce Meadows Summer, Kent Farrington(USA) aboard the 10 year-old gelding Dublin, made it to the finish line with the blistering fast time of 36.65 seconds. "What a great way to start", said Farrington after the victory. " I really wanted to use the Summer Series at Spruce Meadows to build Dublin into a top international horse, and there is no place better to do than at Spruce Meadows." The World #1 then added, "this venue offers great courses, wonderful materials, superb footing and fierce competition. It is the best for finding out how good a horse can be."
Following close behind for second place was Eric Lamaze(CAN) riding Captain, a 10 year-old gelding owned by Gingras Equestrian Ltd. This new partnership has been one to watch within the 1.50m division, ending today on a double clear round with a time of 37.65 seconds. The pair look to be in fine form and on track for multiple podium finishes later this week in the 'North American' Tournament.
The final top three placing fell to the 26 year-old Zazou Hoffman(USA). She rode the 13 Year-old Swedish Warmblood gelding, Samson II, to the finish line as the last of three to finish on a double clear score card. Hoffman crossed the finish line with a time of 40.12 seconds.
Kent Farrington Hoists the Champions Trophy with Chris Brown, Regional Sales Manager, Alberta for Kubota
Daniel Coyle Arrives to Fortune in the
Daniel Coyle(IRL) scored his sixth FEI win of the 2017 Spruce Meadows Summer Series after posting another impresssive victory on day one of the 'North American' Tournament, presented by Rolex with a stunning victory in the ATCO Energy.
Wednesday evening's ATCO Energy 1.45m competition against the clock saw a massive starting list of 98 competitors. Walking under the clock tower as the final combination to challenge the Santiago Varela(ESP) course, was 22 year-old Daniel Coyle aboard Fortis Fortuna. The 12 year-old mare owned by Sue and Ariel Grange displayed unbelievable speed as Coyle kicked her into high gear to take over the winning spot from Leslie Howard(USA). Coyle commented, "I had two big advantages in this competition, I was able to go around once with Martha Louise and I was the final competitor to go." He continued, "From one to two you had to jump careful because it was a tight distance, so once I jumped that, I started to gallop and then I just never stopped. Once I got her into gear like that its best to leave her there. I was still able to ride my plan and had all the correct numbers I had walked, then I made a riskier move to the wall – but she jumped it fantastic." Coyle overcame what seemed to be an unmatchable time set by Leslie Howard(USA), but sealed the victory by a staggering 3.51 second lead.
Leslie Howard's Moondoggie, a 12 year-old Holstein gelding, held on to the leading time of 53.96 seconds for 41 rounds of top performing horse/rider combinations, to finish in second position over the young Irishman.
Following very close behind Howard, with a time of 54.05 seconds was Germany's Philipp Weishaupt aboard the 8 year-old mare by Chacco Blue, Call Me Eva.
The 'North American' Tournament, presented by Rolex has only just begun and the days to come are filled with more championship sport at it's prime, fantastic entertainment and a special salute to the Canadian Military.
Daniel Coyle hoists the ATCO Energy Cup with Steven Piepgrass, Sr. Vice President and
General Manager, Storage and Liquids
The Spruce Meadows 'North American' Tournament, presented by Rolex is an FEI Sanctioned CSI5* event.
Based in Calgary, Canada, Spruce Meadows is the creation of the Southern family who built a Show Jumping complex at the foothills of the Alberta Rocky Mountains. It was in 1976 that the first Spruce Tournaments were held, with annual spectator attendances reaching over 50,000 by the end of the decade. Today, Spruce Meadows boasts one of the greatest outdoor equestrian venues in the world and offers an incredible experience for riders and fans alike. Spruce Meadows focuses on the organization and hosting of show jumping tournaments of unmatched quality for junior, amateur and professional athletes in a manner that reflects basic family values in a clean, green and welcoming environment that celebrates the horse and encourages the breeding and training of quality sport horses and the teaching and development of athletes. For more information on Spruce Meadows, please visit www.sprucemeadows.com.