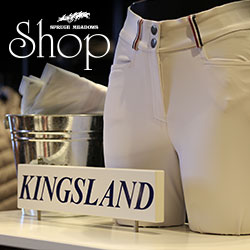 Media Releases
Pedro Janqueira Muylaert and Juan Carlos Garcia Tie at 2.03m in the ATCO 6Bar
2017-09-08
Friday, September 8th 2017
Pedro Janqueira Muylaert and Juan Carlos Garcia Tie at
Friday of the 'Masters' Tournament again saw amazing crowds of over 30,000 enjoying the fan Favorite ATCO 6 Bar under the lights. Not since 2014 had spectators witnessed the incredible equine athletes soar to heights over two meters – and tonight did not disappoint with a 2.03m finish. The two horsemen to take home the ATCO 6 Bar title were Brazil's Pedro Janqueira Muylaert and Juan Carlos Garcia of Italy. Garcia would mark his second top finish of the 42
nd
annual 'Masters' tournament, this time aboard Cocodrillo a 14 year old Holstein Stallion by Corrado. Garcia remarked, "I chose this horse to compete in the 6 Bar because he has all the scope. I had ridden him in these events before and he once again showed his great talent." For Pedro Janqueira Muylaert, this was only his second time competing in a 6 Bar competition and the first time on this horse. Myulaerta commented, "the atmosphere and the incredible crowed really push you through this competition - they helped to give me the motivation to get through to the end!" He continued, "I had never jumped to this height before [2.03m] but I regularly work with gymnastic type exercises to prepare for any big tournament and he's great with them." This said about his winning mount, the 10-year-old Oldenburg gelding Chacote.
Reaching a height of 1.78m to carry on to the fourth round was third place finishers, Paolo Paini(ITL) and Vladimir Tuganov(RUS). With the final fence of the round four series set at 1.88m, both Paini and Tuganov were unable to match the efforts of Muylaert and Garcia, ending on a four-fault finish.
Sett Policicchio, Managing Director, Customer Services at ATCO with the winning pair.
Kent Farrington Finds His Winning Way in the
Friends of the Meadows Cup
Friday's Friends of the Meadows Cup 1.60m competition was a thrilling event that captured the level of high performance competition the 'Masters' Tournament represents. Out of just a handful in the jump off round, of 37 starters, Kent Farrington(USA) piloted Gazelle to another Spruce Meadows victory. Once again, a famed entry of equestrian greats entered the ring with the hope to earn a qualifying position in the coveted CP 'International' Grand Prix. Though currently ranked number one in the world, Farrington had yet to qualify for Sunday's prestigious event. He commented, "It was nice to get the qualification out of the way to now focus on the next one – I'll enjoy this victory tonight but It will be back to work tomorrow." Early to go in the second round and establishing a quick time to beat, was fellow American Lillie Keenan. Farrington continued, "Lillie really went for it, she has a long strided horse and on the roll back to the third fence I think she went wider than planned. My strategy was to go a little bit slower to number two and turn back very short – I think that's where I made up the time."
Twenty-two year old Lillie Keenan(USA) aboard the talented 11-year-old gelding Super Sox made her mark in the International Ring with an early clear round in the challenging 1.60m test. Keenan showed her skill after posting a lightning fast pace to set the tone for an exciting 5 horse jump off.
Finishing in third place was Switzerland's Puis Schwizer aboard the 11 year old gelding Leonard De La Ferme CH. His solid double clear round was 2.44 seconds behind the untouchable Farrington, yet also sealed his qualification for Sunday's Grand Prix.
Kent Farrington(USA) Hoists the Cup with Michel Sorg of the Rolex Grand Slam, Geneva
The Spruce Meadows 'Masters' Tournament, presented by Rolex is an FEI Sanctioned CSIO5* event.
Based in Calgary, Canada, Spruce Meadows is the creation of the Southern family who built a Show Jumping complex at the foothills of the Alberta Rocky Mountains. It was in 1976 that the first Spruce Tournaments were held, with annual spectator attendances reaching over 50,000 by the end of the decade. Today, Spruce Meadows boasts one of the greatest outdoor equestrian venues in the world and offers an incredible experience for riders and fans alike. Spruce Meadows focuses on the organization and hosting of show jumping tournaments of unmatched quality for junior, amateur and professional athletes in a manner that reflects basic family values in a clean, green and welcoming environment that celebrates the horse and encourages the breeding and training of quality sport horses and the teaching and development of athletes. For more information on Spruce Meadows, please visit
www.sprucemeadows.com
.