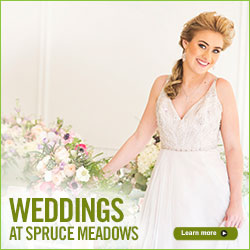 Media Releases
Team USA Captures Victory in BMO Nations' Cup
2017-09-09
Saturday, September 9th 2017
Team USA Captures Victory in the Prestigious
What an incredible day of sport Saturday afternoon at the Spruce Meadows 'Masters' Tournament. An international roster of 32 riders comprising eight national teams, all of which were eager to claim victory over the prestigious two round competition designed by Leopoldo Palacios of Venezuela. Thrilling from start to finish, the typical two round competition would continue into a tie breaking jump off in front of a massive crowd of over 86,000 captivated spectators on the Spruce Meadows grounds.
In the end, it would be Team USA [Lauren Hough, Charlie Jacobs, Lillie Keenan and Beezie Madden] who'd reign victorious, sending American super star Madden to the Jump off against Brazilian rider (Friday nights' ATCO 6bar winner) Pedro Janqueira Muylaert. Riding Darry Lou, an incredibly talented 9 year old Dutch Warmblood Stallion, Beezie Madden finished on an impressive triple clear scorecard with a time of 39.21 seconds to capture the jump off victory. Madden expressed this about the jump off, "I thought I had some very good turns planned and good foot speed – though I know I could most likely be beat by some of those others with really big gallops. My plan going first was to put in a real solid round that they [Team Brazil] had to go fast to beat. In hind sight, I think I may have left the door open a little bit but still left enough pressure to really make him go." Team Chef d'Equipe, Robert Ridland was very pleased with the team who all managed to perform solid rounds in what was described as a difficult but very fair track.
The Silver medalists, Team Brazil [Eduardo Menezes, Pedro Junqueira muylaert, Yuri Mansur Guerios and Pedro Veniss] performed an incredibly competitive Nations' Cup after team lead off rider Eduardo Menezes took an unfortunate and spectacular fall off of Quintol. Both horse and rider were okay but due to concussion protocol were not deemed fit to continue into the second round. Pedro Junqueira Muylaert aboard Prince Royal Z MFS would represent the team in the jump off against USA but fell slightly short, crossing the finish line 0.54 seconds behind.
Bronze Medalists, Team Germany [Philipp Weishaupt, Holger Wulschner, Patrick Stuhlmeyer and Marco Kutscher] also posted good rounds but fell short of the jump off by one time fault.
Team USA Chef d'Equipe Robert Ridland Hoists the BMO Nations' Cup with Darryl White, COO BMO Financial Group
McLain Ward Captures the Suncor Winning Round
A
fter having what he referred to as a four-fault week, McLain Ward(USA) found his victory in the Suncor Cup aboard the incredibly talented HH Carlos Z, a 15-year-old Zangersheide gelding. After an astoundingly positive Spruce Meadows Summer Series, Ward knew the winning day was just around the corner. Returning in the middle of the pack for the Winning Round, Ward posted a lighting fast time of 55.11 seconds to beat them all. Ward commented, "as [owner] Mr. Harrison always says he's the best pound for pound we have. He is a winner, its hard to find a show he doesn't win a competition at – we've had a little bit of a four-fault week and I just knew he was going to be in good form today and it paid off – he performed beautifully."
Following behind for second place was Egypt's Sameh El Dahan aboard the 11-year-old chestnut mare, WKD Diva. It was a close finish between the top two finishers with El Dahan returning for the winning round with the advantage of going late in the order El Dahan rode a fierce winning round but fell 0.71 seconds short of Wards time.
The third and final position went to Canada's Eric Lamaze aboard the 11-year-old gelding Chacco Kid. The Canadian great aboard what is naturally a much slower paced horse than the top two finishers, posted a valiant effort – posting a time of 56.37 seconds.
McLain Ward USA and Steve Williams, Chief Executive Officer, Suncor
The Spruce Meadows 'Masters' Tournament, presented by Rolex is an FEI Sanctioned CSIO5* event.
Based in Calgary, Canada, Spruce Meadows is the creation of the Southern family who built a Show Jumping complex at the foothills of the Alberta Rocky Mountains. It was in 1976 that the first Spruce Tournaments were held, with annual spectator attendances reaching over 50,000 by the end of the decade. Today, Spruce Meadows boasts one of the greatest outdoor equestrian venues in the world and offers an incredible experience for riders and fans alike. Spruce Meadows focuses on the organization and hosting of show jumping tournaments of unmatched quality for junior, amateur and professional athletes in a manner that reflects basic family values in a clean, green and welcoming environment that celebrates the horse and encourages the breeding and training of quality sport horses and the teaching and development of athletes. For more information on Spruce Meadows, please visit
www.sprucemeadows.com
.