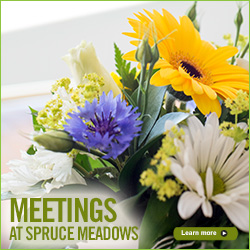 Media Releases
MERRY CHRISTMAS!.. From ATCO, Bennett Jones & Scotiabank
2017-11-24
NEWS
Television & Media Services
18011 Spruce Meadows Way
Calgary, AB T2X 4B7
(403) 974-4596
RELEASED: Friday, November-24-17
MERRY CHRISTMAS!..
From:
FOR IMMEDIATE RELEASE:
Spruce Meadows is delighted to announce that again this holiday season Christmas Lights @ Spruce Meadows will continue to be complimentary for all to enjoy.
"We are overwhelmed with the continued generosity and support of our corporate partners allowing us to continue to offer this unique Christmas light experience free of charge", said Spruce Meadows president and CEO, Linda Southern-Heathcott. "You can well imagine the scope of such an operation over a full month. We deploy hundreds of thousands of lights, over 50 km in total length, as well as an incredible about of Christmas and Holiday season décor. Without the amazing support of ATCO, Bennett Jones and Scotiabank it simply would not be possible for us to offer Christmas Lights @ Spruce Meadows as a gift to everyone." Last year more than 50,000 guests enjoyed Christmas Lights @ Spruce Meadows.
Christmas Lights @ Spruce Meadows opens Saturday, December 9th and runs daily through until January 7th (except for Christmas Day – December 25) between 5 and 10pm. This year the drive through tour will begin on the east side of Spruce Meadows via Spruce Meadows Way.
For information visit www.sprucemeadows.com