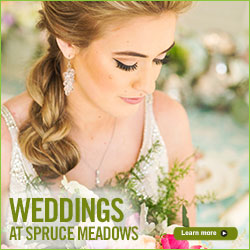 Media Releases
The Spirit of Giving from the Spruce Meadows Leg Up Foundation
2017-12-01
Media Release
18011 Spruce Meadows Way, Calgary, AB T2X 4B7/P: (403) 974-4596
RELEASED: Friday, December-01-17
The Spirit of Giving
FOR IMMEDIATE RELEASE:
This afternoon on the main stage of the Spruce Meadows International Christmas Market, Lori Fyke, director, Spruce Meadows Leg Up Foundation presented STARS with a $50,000 donation to assist with the day-to-day operations of this important Albertan institution. Andrea Robertson, president & CEO, STARS was present to accept and commented "STARS relies on the support of allies like the Spruce Meadows Leg Up Foundation to ensure that each person who needs emergency medical care receives it quickly." She added, "thank you for joining our fight to save lives."
Robertson was joined for the presentation by former STARS patient Hugh Watson who knows all too well the importance of this incredible organization and the importance of continued support. Watson was involved in a near fatal ATV accident and given a very small chance for survival. He believes it is because of STARS that he is alive today.
STARS provides specialized emergency medical care and transportation for critically ill and injured patients. STARS physicians, nurses, paramedics and pilots work with a team of dedicated support staff and community partners to save lives. STARS has bases in Calgary, Edmonton, Grande Prairie, Regina, Saskatoon and Winnipeg.
Throughout the year, the Spruce Meadows Leg Up Foundation, which is the official charitable arm of Spruce Meadows, has helped support a comprehensive School Tours/Education Programs for students in grades 4 – 6, supported First Responders including a pilot project through the Calgary EMS Foundation, PAWS, and has helped to curb childhood hunger through the support of I-Can for Kids.
The Spruce Meadows Leg Up Foundation continues its work this weekend in support of the Calgary Food Bank via the 50/50. Tickets can be purchased during the final weekend of the Spruce Meadows International Christmas Market presented by Telus. Last year, the Foundation was proud to donate $10,000 to the Calgary Food Bank and is anticipating a similar donation for this year.
For more information on the Spruce Meadows Leg Up Foundation, please contact Ashley Wee (Leg Up Foundation Media Coordinator) at 403.974.4596 or email ashley.wee@sprucemeadows.com.
© Spruce Meadows Media (From left to right) Andrea Robertson (President & CEO, STARS),
Hugh Watson & Lori Fyke (Director, Spruce Meadows Leg Up Foundation).