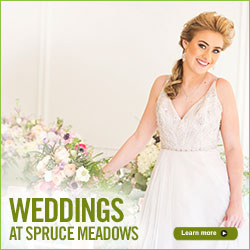 Media Releases
2018 'National' presented by Rolex - Saturday June 9
2018-06-09
FOR IMMEDIATE RELEASE
June 9, 2018
Saturday at Spruce Meadows
Kent Farrington (USA) winner of the RBC Grand Prix presented by Rolex © Spruce Meadows Media
Kent Farrington (USA) and Gazelle With a Weekend Win

Fans were treated to great international sport in the RBC Grand Prix, presented by Rolex. Thirty-four top international horse/rider combinations stepped forward into the International Ring to take on FEI course designer Peter Grant's (CAN) 590m track - something he had been preparing since early this year.

Twelve nations were represented in the International Ring but it was Canada's Lisa Carlsen who would post the first clear round of the competition. Over ten rounds would pass before another clear was posted and it would be 26 year old Karen Polle of Japan aboard With Wings that would guarantee us a jump off. With only five horses to go there were still only two clears, but some of the best were about to step into the International Ring including last years' winning pair, Patricio Pasquel (MEX) and Babel. A couple rails in the later half of the course would knock both Pasquel and Eric Lamaze (CAN) out of the running, but former world number one Kent Farrington (USA), who won this event back in 2015, posted the third clear round of the day.

Carlsen would be first to take on the jump off track and laid down a clean ride to put the pressure on Polle and Farrington who followed. Polle was next and put down a time of 48.52s but a rail in the combination. Farrington was the last to go and knowing just how fast he had to be put in a clear round with a time of 49.94s taking the win in the 2018 RBC Grand Prix, presented by Rolex.

"It's never dumbed down here, if it's a five star Grand Prix, it's built to a five star Grand Prix. " - Kent Farrington (USA)

Juan Jose Zendejas (MEX), winner of the TransCanada U25 Wnning Round ©Spruce Meadows Media
Juan Jose Zendejas (MEX) Wins the TransCanada U25 Winning Round

There was a great list of international talent qualified for the TransCanada U25 Winning Round on day four of the Spruce Meadows 'National' CSI5* presented by Rolex. It was just a coincidence but 25 horse/rider combinations would step froward into the International Ring for this exciting U25 competition. As a winning round competition, these riders, while obviously wanting to be clear, only needed to finish in the top 10 of the first round to come back for the Winning Round.

Five riders would post a clear round in round one while the remaining top 10 finishers would post time faults, but no rails, moving to the Winning Round. Ben Asselin (CAN), Carlos Hank Guerreiro (MEX) and Juan Jose Zendejas representing Mexico all carried two horses into the Winning Round. It would come down to Guerreiro and Zendejas for top spot and Zendejas left nothing behind. "I had to give it a try" stated Zendejas about his winning ride.

"It's an honour to win here" - Juan Jose Zendejas (MEX)


Enjoy a ride on the Spruce Meadows Carousel compliments of ATCO © Spruce Meadows Media
Something for Everyone
Saturday of the 2018 Spruce Meadows 'National' CSI5* presented by Rolex was a full day of family fun with great sport, fantastic food and activities for everyone to enjoy. Thousands filled the grounds to experience all there was to see. The TransCanada U25 Winning Round and the RBC Grand Prix presented by Rolex were the featured events of the day and fans were treated to great sport.

Moving away from the International Ring and into the plazas, the grounds were filled with fans and spectators taking in all the First Responder exhibits including both the Hawks and STARS helicopters. The FireFit Regional Championships were also in full swing as both firemen and firewomen displayed incredible athletic ability through the challenging FireFit course - those competitions continue through until tomorrow.

Horizons Pavilion, Vendor Village and the Upper & Lower Plazas continued to attract those not only interested in shopping, but with lots of different exhibitors there is something for everyone. The new Spruce Meadows Carousel and Mini-Train rides, compliments of ATCO, proved to be a fan favourite and will continue to operate for the rest of the weekend.

Sunday (tomorrow) is the final day of the Spruce Meadows 'National' presented by Rolex. Admission starts at $5 with children 12 and under and seniors 65 and up are free. Parking is free of charge or take the complimentary shuttle from the Somerset/Bridlewood LRT Station. More information on everything happening this weekend can be found on the Spruce Meadows Website www.sprucemeadows.com or you can download the new Spruce Meadows App (IOS or Andriod).
The Spruce Meadows 'National' Tournament, presented by Rolex is an FEI Sanctioned CSI5* event.
Based in Calgary, Alberta, Canada, Spruce Meadows is the creation of the Southern family who built a Show Jumping complex at the foothills of the Alberta Rocky Mountains. It was in 1976 that the first Spruce Meadows Tournaments were held, with annual spectator attendances reaching over 50,000 by the end of the decade. Today, Spruce Meadows boasts one of the greatest outdoor equestrian venues in the world and offers an incredible experience for riders and fans alike. Spruce Meadows focuses on the organization and hosting of show jumping tournaments of unmatched quality for junior, amateur and professional athletes in a manner that reflects basic family values in a clean, green and welcoming environment that celebrates the horse and encourages the breeding and training of quality sports horses and the teaching and development of athletes. For more information on Spruce Meadows, please visit www.sprucemeadows.com