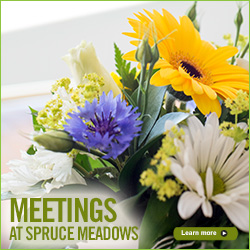 My Account
Welcome. This portal is your personal gateway to purchasing at Spruce Meadows. Here you can login and purchase event tickets and RV Sites, review/print your tickets as well as update your account/contact information.

If you are already registered - please login to your account below under Login. If you have not yet registered with us - please do so using the Register form(when available) below.

Accounts are email specific - so if you wish to keep all your ticket sales together in one account (this is stongly recommended), be sure to only register with one email address. If your email address ever changes - login with your original email address and change it within the Account settings once logged in. Please feel free to contact us if you have any questions.


Need Help
Forgot Password Help
The forgot password link will look to see if your email address exists in our system. If your email address does exist - the system will reset your password and send it to you via email. If you do not get that email - make sure you check your spam and/or junk mail folder.

Login Problems
If you are having issues logging in and you know you have an account on our website and have tried the forgot password link - please contact us.


Questions?
Contact Spruce Meadows at:
18011 Spruce Meadows Way SW
Calgary, Alberta, Canada T2J5G5
t. 403.974.4200
f. 403.974.4270
e. reserved.seating@sprucemeadows.com

Terms and Conditions

Privacy Policy