Name the Foal presented by TELUS has Launched!
June 02, 2023

2023 Edition of Spruce Meadows Name the Foal,
presented by TELUS is Underway!
Spruce Meadows Name the Foal, presented by TELUS has returned for another year, with the contest running from now until August 4, 2023.

Back with a full summer of show jumping tournaments, the foals will be making appearances on the International Ring until the end of the 'North American' CSI5* Tournament. Fans will also be able to follow along with the growth and development of the foals on social media, as our team will be sharing digital updates all summer long.

This year, Spruce Meadows welcomes three new foals looking for names. Contestants are invited to submit names for the foals that align with the traditional naming conventions. This means that the names for the foals must begin with the same first letter as their sires' name.

Now, let's meet this year's foals!
---
FOAL #1 - "B"
Foal #1 made his entrance into the world a few days earlier than expected, but this big boy is ready to make a big impact. His sire, Big Star, is a show jumping superstar. Piloted by the great Nick Skelton (GBR), he jumped to a Team Gold Medal finish at the 2012 Olympic Games in London and Individual Gold Medal at the 2016 Olympic Games in Rio de Janeiro. Ten years ago Skelton and Big Star were also the winners of the 2013 Rolex Grand Prix of Aachen, the first event of the first ever leg of the Rolex Grand Slam of Show Jumping. Unlike his father, who has no facial markings, Foal #1 has a big white star on his head. He has a lovely temperament and the first to come say hi in the paddocks.
FOAL #2 - "J"
Foal #2 is a beautiful, fine, dark bay filly. While she started off very shy and a little hesitant of people, she's certainly getting braver and ready to make her debut in front of fans. She can consistently be seen in the paddocks playing and running and jumping around her mom, Qualandra. Foal #2's sire is Jethro Tull and she will need a name that starts with the letter "J".
FOAL #3 - "K"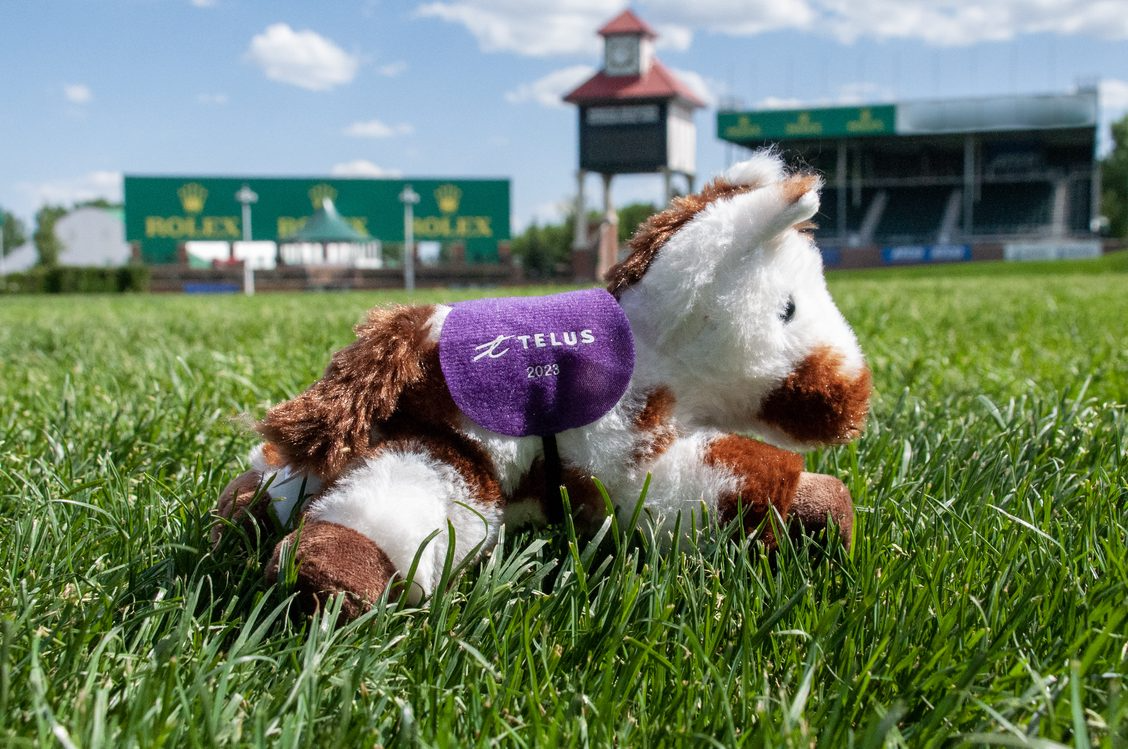 Foal #3 is a miniature surprise and delight! He was born on April 30, 2023 and his unique colouring is sure to make him standout in a crowd. Despite being on the shorter side, he loves to show off his speed, racing around his mom, Sante, whenever he gets the chance. Foal #3's father is Knightstars Spellcaster and keeping with Spruce Meadows tradition his name will need to start with the letter "K". You'll have to be the judge on if this "leopard" can change its spots.
---
"As a proud partner of Spruce Meadows for more than 30 years, TELUS is honoured to support the annual Spruce Meadows Summer Series, a legacy in the Calgary community," said Patrick Barron, Vice-president of Corporate Citizenship and Community Investment. "Spruce Meadows Name the Foal, presented by TELUS, is a contest we look forward to each year helping connect Calgarians even more closely to these beloved community events. We're excited to see what names Canadians suggest as the show jumping season begins."

Fans from across Canada are encouraged to enter online for the possibility of having their name selected. This year's winners will receive trip for them and a guest to the 2023 Spruce Meadows 'Masters' Tournament in September as well as a Spruce Meadows and TELUS Prize Pack including awesome tech and merchandise.
For full rules and to enter, click the link below!
---
TELUS and Spruce Meadows
TELUS is proud of its long-standing partnership with Spruce Meadows. 2023 marks the 34th year of the partnership. Together, we are thrilled of our partnership commitment for many years to come.

The TELUS/Spruce Meadows relationship spans the entire calendar year consisting of a wide variety of programs including sport, technology, media, Name the Foal, volunteer programs and the immensely popular Spruce Meadows International Christmas Market, presented by TELUS.

TELUS has deep roots in Calgary, and believes that to do well in business it needs to do well in the community. One of the most important ways TELUS does this is through its philosophy to "Give Where We Live". Since 2000, TELUS, our team members and retirees provided $230 million in cash, in-kind contributions, time and programs and volunteered 3.49 million hours to charities and community organizations located specifically in Alberta. Globally, our TELUS family has contributed $1.5 billion in giving including 15 million volunteer hours since 2000.