Introducing GlobeQuest: The Orb Odyssey at Spruce Meadows!

Inspired by the sense of adventure and wonder found on Block Island, we invite you to embark on a thrilling journey right here at Spruce Meadows! Get ready to explore our property in search of hidden Glass Orbs. Welcome to GlobeQuest, an immersive experience that combines the magic of discovery, the beauty of blown glass, and the chance to win an incredible prize!
Beginning at our 2023 outdoor tournaments, we will have an array of captivating orbs, about the size of an orange, awaiting discovery. Among the orbs available at our tournaments this summer and fall, there are a select few orbs that hold an extra special allure in their design in stunning tones of jewel green, blue, and red. The remaining orbs possess their own inherent beauty, showcasing the pristine clarity of glass.

When you find one of these remarkable Orbs, your journey takes an exciting turn. Nestled at the bottom of each Orb, you'll find a QR code waiting to be scanned. This QR code will take you to our dedicated registration site, where you can enter your discovery into the contest. Just a few taps on your smartphone, and you'll be one step closer to the grand prize. And yes–you get to KEEP your beautiful Orb!

Remember, only one Orb per family for the year, please, as we want to ensure fairness and equal opportunities for ALL participants. If you find more than one, please leave it in place.
If you find another, it's your quest to either leave it or re-hide it for the next person. If you choose to re-hide an Orb please be sure to follow the rules and stay off private property, the jumping rings, or the stabling areas.
And hey–be PROUD of your find and post a photo of you and your Orb on social media! Be sure to tag us at @spruce_meadows with the hashtag #sprucemeadowsglobequest and we will also feature your photos here on our website!
By registering your discovered Orb through the QR code or the link below, you will automatically be entered into a prize draw. The grand prize? A Reserved Table in 2024 to every tournament in the West Grandstand and International Christmas Market Tickets at Spruce Meadows! Imagine having the best seats in the house for all our major tournaments throughout the year, as well as access to our magical International Christmas Market, presented by TELUS.

Whether you're an avid adventurer, a passionate equestrian enthusiast, or simply seeking a unique and unforgettable experience, GlobeQuest: The Orb Odyssey at Spruce Meadows is something you won't want to miss.


FOUND AN ORB? REGISTER IT HERE


Details
WHEN:
The hunt will take place only during the opening hours of our four show jumping events at Spruce Meadows in 2023.
'National', presented by ROLEX | June 14–18 (All orbs have been claimed)
'Canada Day' | July 1 (All orbs but 4 have been claimed)
'North American', presented by ROLEX | July 5–9 (All orbs but 16 have been claimed)
'Masters' | September 6–10 (23 Red and 77 Clear Orbs available)
If the Orbs have not been found, they will be gathered and placed in a different spot.
WHAT:
Glass Orbs have a letter (indicating the tournament), numbered, and stamped with the shape of a Jumping Horse. A new, differently coloured, set of Orbs will be hidden at each of the events listed above. All glass orbs are clear glass except for 23 at each show jumping event (because it is 2023), which are special colored Orbs. If you find an Orb we ask that you register it by clicking the link below. And yes, you can keep your Orb!
WHERE:
Glass Orbs will be hidden on the grounds of Spruce Meadows. They will be on the main grounds and never in a building or stabling area, pastures, private property, and NEVER in jumping rings. You will never have to dismantle a stone wall or anything else to find an Orb. Please leave the property undisturbed!
From the pond at the front of the property, west to the Congress Hall, north to Founders Plaza and south to ATCO Field–the Orbs will be hidden in all these areas so keep your eyes open!
WHO:
Anybody!
The Artist–Mandy Patchin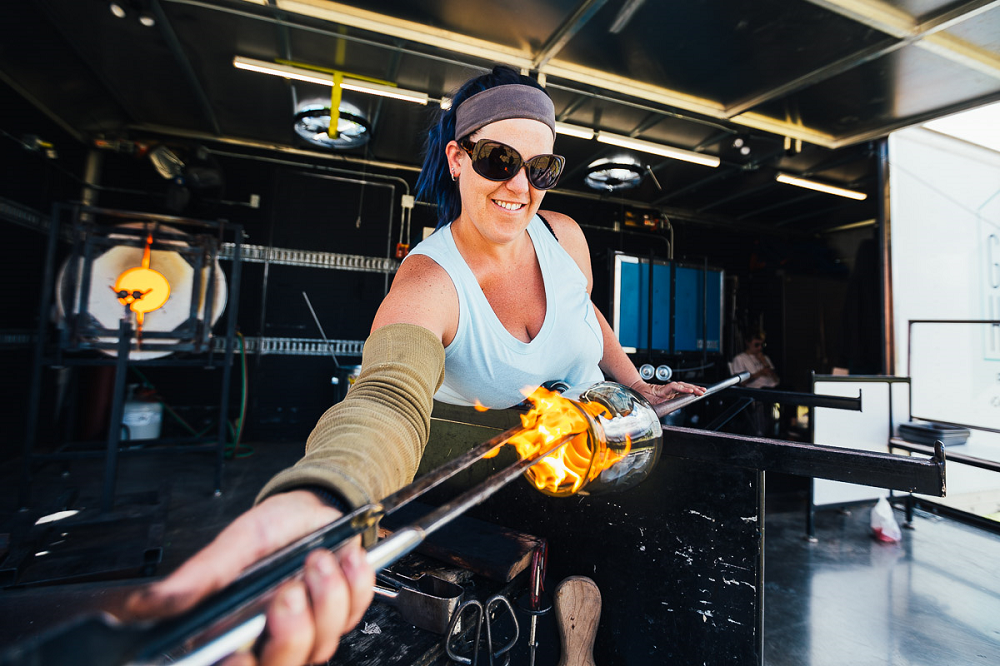 Mandy Patchin of Glass House Xperience
Mandy Patchin owner and artist at Glass House Xperience was introduced to glass blowing in 2011. By enrolling in a weekend, "introduction to glass blowing" course. She says she will never forget the moment she stood in front of the glory hole (the name the instructor gave for the reheating). She was taken by the heat, the fire, and the excitement immediately.

Glass Blowing is a technique, dating back to the first century, using a metal blowing tube, molten glass, sometimes forms to create unique glassware such as cups, vases, and more. The metal blow hole allows the gaffer (glassblower) to add air and inflate the molten glass "blob" to form the desired shape (cup, vase, etc.).

For Mandy, glass blowing is a dance with fire, enjoying the fluidity of the molten glass and the endless possibilities to create something new and unique every time she works with a "blob" of glass.

Blown glass is made by introducing a bubble into the interior of the molten hot glass, this is done on a hollow pipe that you blow into to inflate. The glass itself is made using various techniques when introducing color and pattern to blown glass they can vary in complexity, but all blown glass is made on a hollow pipe using air to inflate.

Clear Glass is made using the three following ingredients, silica (sand) soda lime, and potash when mixed and heated to 2150F it becomes molten. To make glass color we add different metals and elements.
FOUND AN ORB? REGISTER IT HERE